SugarLamb Pom's little Divo...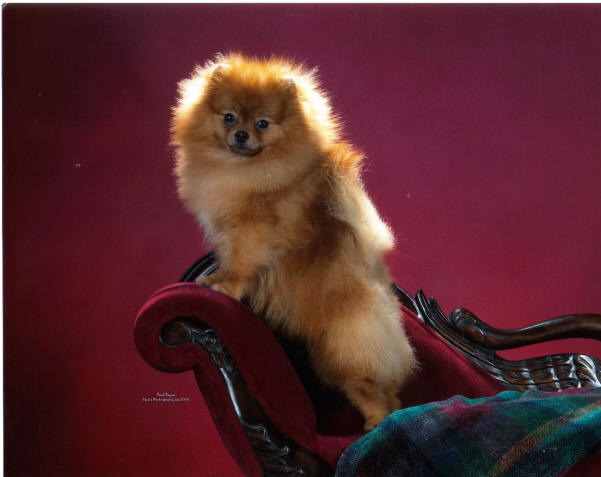 Divo left his mark here at SugarLamb. We tried our hand in the ring with him when he was just 6 months of age and put his first Championship points on him. The judge commented how typie Divo was but that he did have a hitch in his step we should get checked out.
We worked closely with his breeder Pomhaven Canada and returned Divo to BC to have the breeder's Vet review the injury. The vet could find no issue at the time and Divo was returned home a new Canadian Champion.
Upon his return we entered Divo in our local shows in Ontario. The hitch returned and again with the breeder's support we returned Divo to BC for another Vet examination. At that time the surgery was done on Divo's patella and we again brought Divo back out to the ring where with the help of Professional handler's completed his American Championship.
Divo's pedigree is loaded with rich color and a correct harsh coat. He has proven himself as a quality producer with Champion babies including his first daughter "Fergie" who also won the Group Owner Handled by Nathalie Belanger. Unfortunately along with correct coat and vibrant color the patella issue has plagued us and most of Divo's puppies exhibited below grade patella's We continue to work diligently here at SugarLamb to correct this issue in our breeding dogs and have introduced new Stud dogs into our breeding program.
Group Winning CH SugarLamb's R U Payin Attention
BPIG AM/CAN CH SugarLamb's The Apprentice
CH SugarLamb's Next Top Model (Major Pointed)
CH SugarLamb's Project Runway
CH Promise's Made Promise's Broken at SugarLamb
AM CH Chinadoll's Red For Monarch
CH Chinadoll''s Call Me Jack